Artist Interview:
Andy Yang
The pandemic merely accelerated the presence of technology in art. As it is, technology has already changed the way we view, appreciate and consume art and it will continue to do so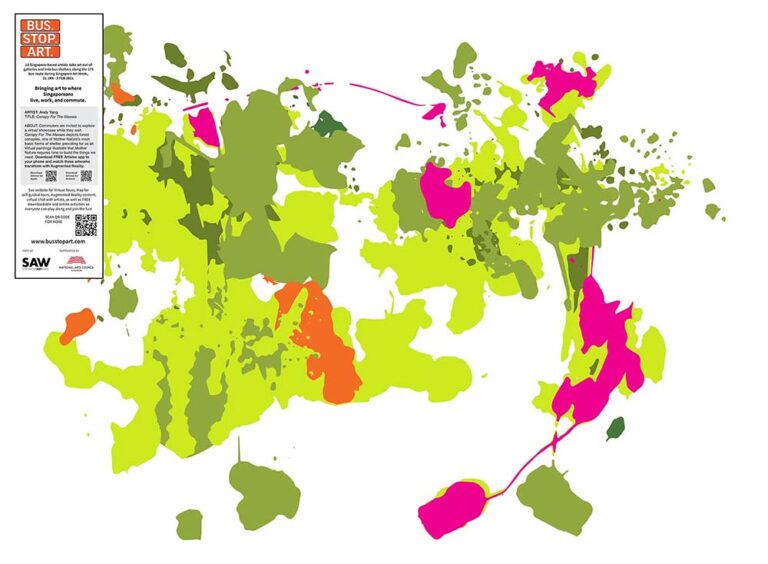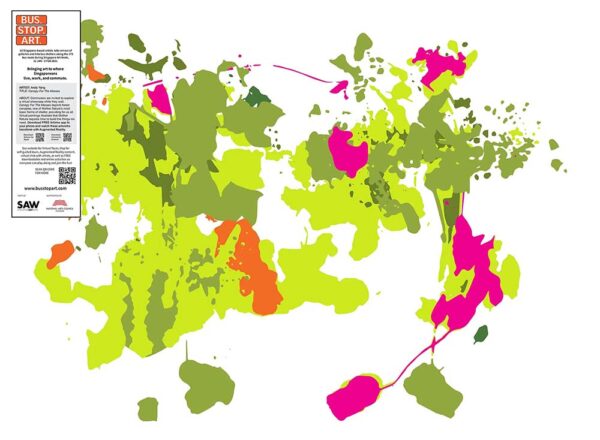 Andy Yang is a multi-disciplinary artist known for his abstract visual and sound experimentations.
His project as part of the Bus.Stop.Art initiative in Singapore was enhanced with augmented reality. We reached out to Andy to discuss the project in more detail and to hear about how he incorporates technology with art.
---
Tell us a bit about the bus stop art initiative in Singapore. How did the project come about and how did you get involved?
Bus.Stop.Art. is an innovative public art exhibition bringing art to where Singaporeans live, work, and commute. Set up by curators Amelia Abdullahsani and Merryn Trevethan, the idea was to take art out of museums and galleries and bring hope and joy to the everyday commute. They reached out to 10 Singapore-based artists, myself included, to install artworks in bus shelters for Singapore Art Week 2021. The exhibition, supported by the National Arts Council, is spread along the #175 route, spanning the island from Geylang Bahru to Gillman Barracks.
As Singapore was going through the lockdown during the pandemic, the curators, Amelia and Merryn were in the midst of selecting artists to work with. They got in touch to ask if I was keen to be on board the project and I agreed. At the time we weren't sure if we would even be able to organize regular exhibitions, but I thought it would be great to create an artwork enhanced with AR and bring it out into the streets to experiment with.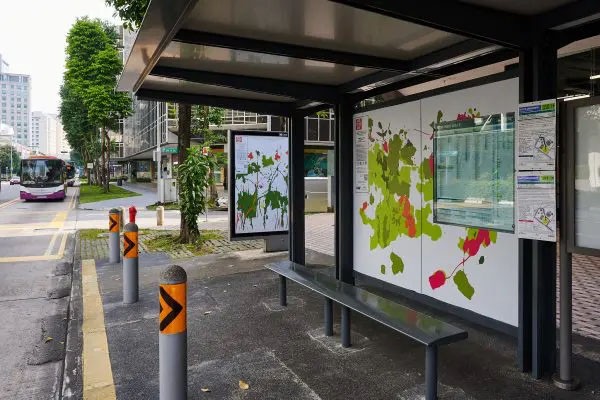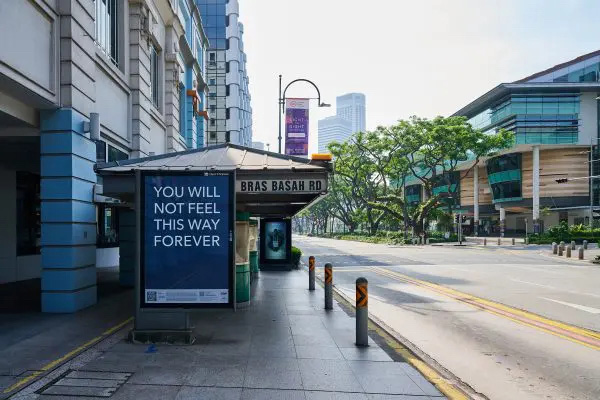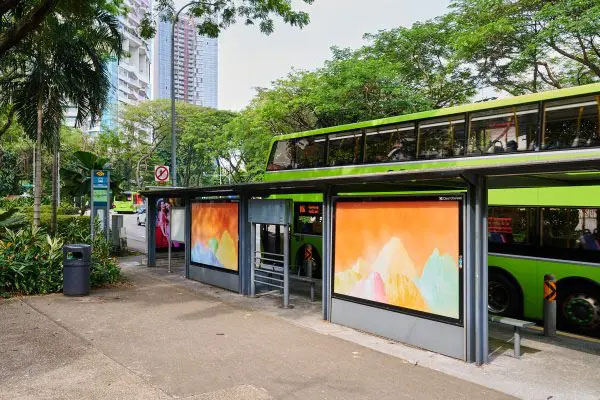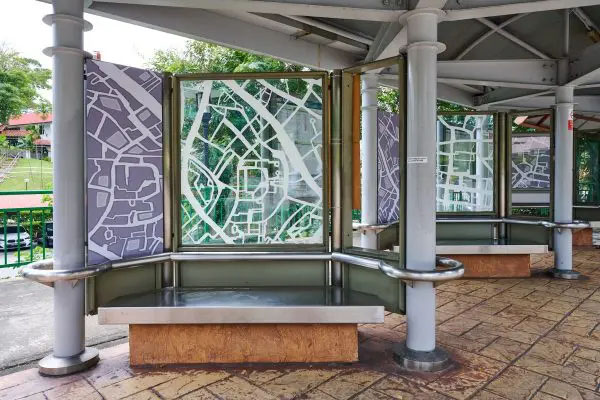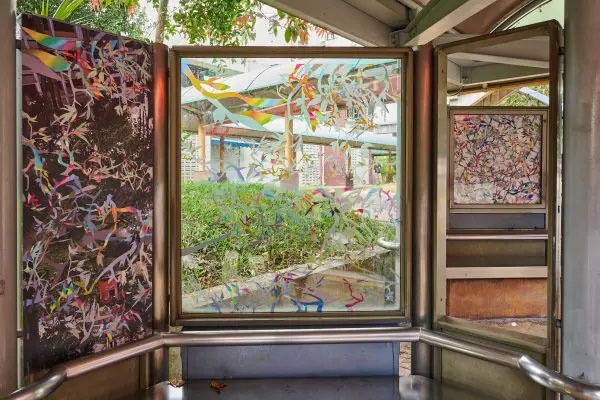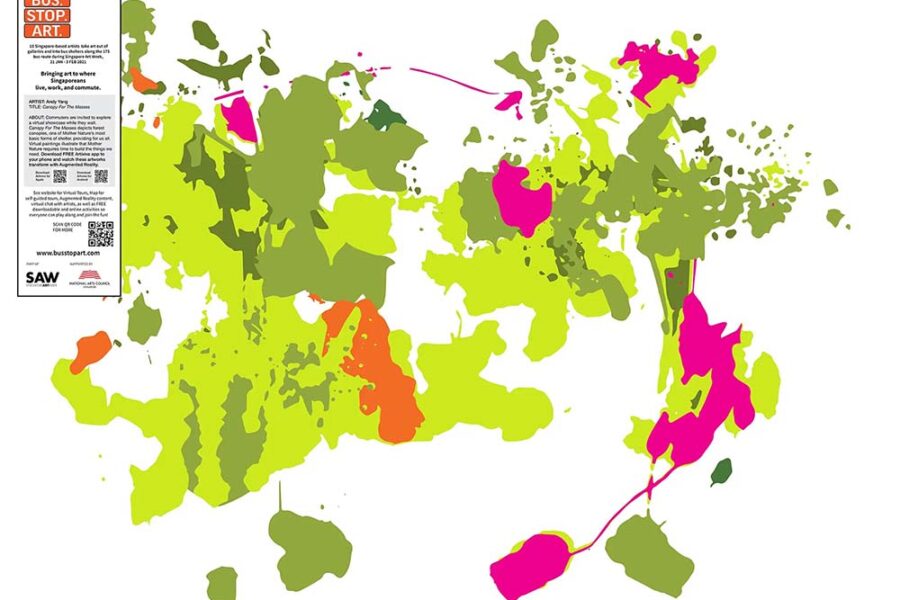 How do you feel about public exhibitions such as this one, both from an artist's perspective, as well as a consumer?
This way of presenting works may very well be really popular in years to come due to its accessibility. More people are expressing themselves like never before, immersing themselves in making art and getting to know themselves better in the process. Also, with the restricted travel, more people are starting to take notice of artists and musicians. People are immersing themselves in what would be considered a waste of time in "normal" times. The worldwide lockdowns have really highlighted the importance of art and artists around the world.
We are challenging perceptions of what is considered public art. It doesn't just have to be expensive sculptures permanently placed outside offices, it's not always street art or murals, and it need not be controversial to make a statement.
Tell us a bit about the artwork. Did you create it specifically for this project or was it an existing piece that you enhanced?
Commuters are invited to explore a virtual showcase while they wait. Canopy For The Masses depicts forest canopies, one of Mother Nature's most basic forms of shelter, providing for us all. Virtual paintings created from scratch, illustrate that Mother Nature requires time to build the things we need. Simplicity and gratitude for what we have around us was key to the concept of the artwork presented. To share with everyone what I see and how we can focus our mind to perceive and see the world around us.
Was this your first time using Artivive? What are the pros and cons for you when creating art that is enhanced with AR?
I was already working on a project with The Meshminds Foundation and Artivive for the Sustainable Singapore virtual exhibition, so I had the opportunity to experiment with the platform prior to the Bus.Stop.Art project. The pros are that we are able to take art out of museums and white cube galleries and bring it into the public realm where it can be enjoyed by anyone at any time — day or night. It would be great if the AR activation was included as a standard on all mobile phones and tablets. Even though we had QR codes at the bus stops specifically to download the app on both Apple and Google stores, that extra step was better received by more seasoned QR-code-savvy audiences.
It's no surprise that this last year has looked very different for us all. Has the global pandemic changed your daily work as an artist and how you create?
As we headed to an uncertain future, I was overwhelmed by muddled worries about what might come next. To take my mind off the confusion, anxiety, and stress, I buried myself in my work. Ideas seem to flow out freely out from my hands and onto the surface. The world, while moving more slowly, suddenly seemed much harder to navigate. I kept creating as though I was living on borrowed time, which could be taken away at any moment. I wanted to create as much art as possible, both individually as well as through collaborations with other like-minded artists, just to keep sane. It made me appreciate the people around me and what we already have.
How do you see the future of art? Do you think technology will become more present in shaping how we consume and create art? Or do you think analog will always be front and center?
Without a doubt, traditional ways of making art will always have a place in our hearts. The moment this pandemic is over, art lovers will make a beeline back to museums and galleries. At the same time, our reliance on technology in our everyday lives (and its obvious capabilities to shape our world in many ways) is definitely a force to be reckoned with and it is here to stay. The pandemic merely accelerated the presence of technology in art. As it is, technology has already changed the way we view, appreciate and consume art and it will continue to do so.
---