Artist Interview:
Pamela Mattana
When I design a work I am interested in communicating in an empathetic way especially with the new generations. In my works there is always a pedagogical intent.

1. Can you tell us a little bit about yourself?
I am a teacher, I have been a university researcher and, above all, passionate about art. For me, art is the most immediate medium of communication, in audio I feel facilitated by my specific studies but I have also studied visual art. When I design a work I am interested in communicating in an empathetic way especially with the new generations. In my works there is always a pedagogical intent.
2. Can you tell us how your project for the International Day for the Elimination of Violence against Women (25 November) came about?
This is the second work created by me, in collaboration  with Fabio Pitotti, with the augmented reality of Artivive after Indagorom@
Actually, the idea of this installation was born before Indagorom@, immediately after Covid.
At that time I was dedicating myself mainly to the technique of poetic writing and in one of these works-study I happened to make a reflection on the concept of fear.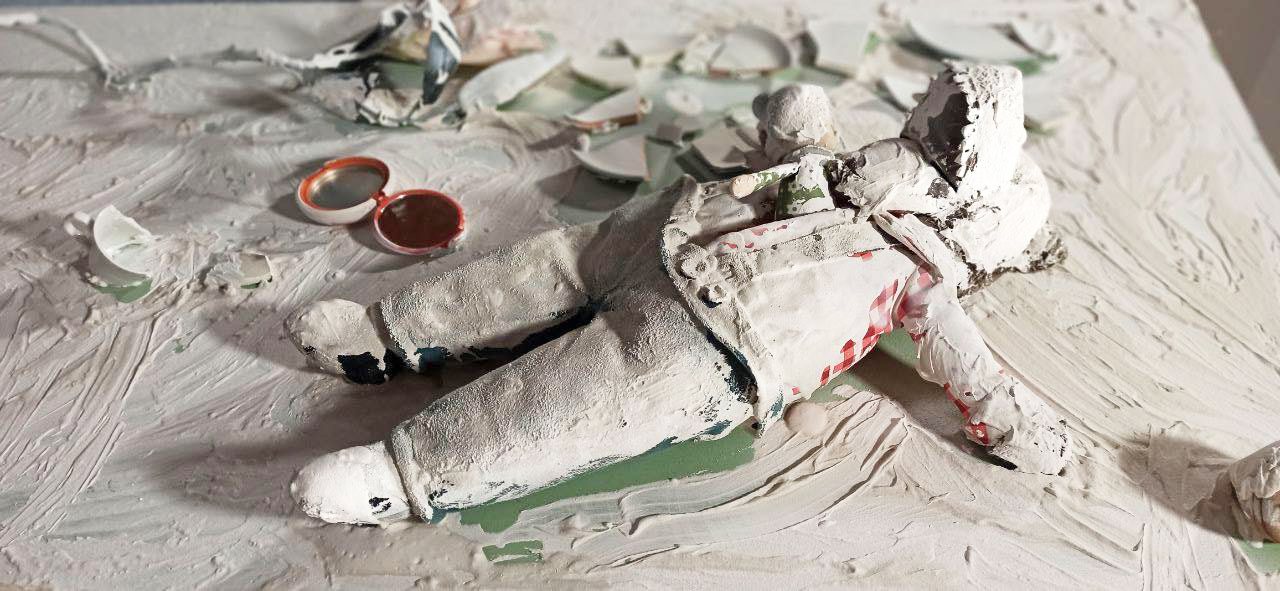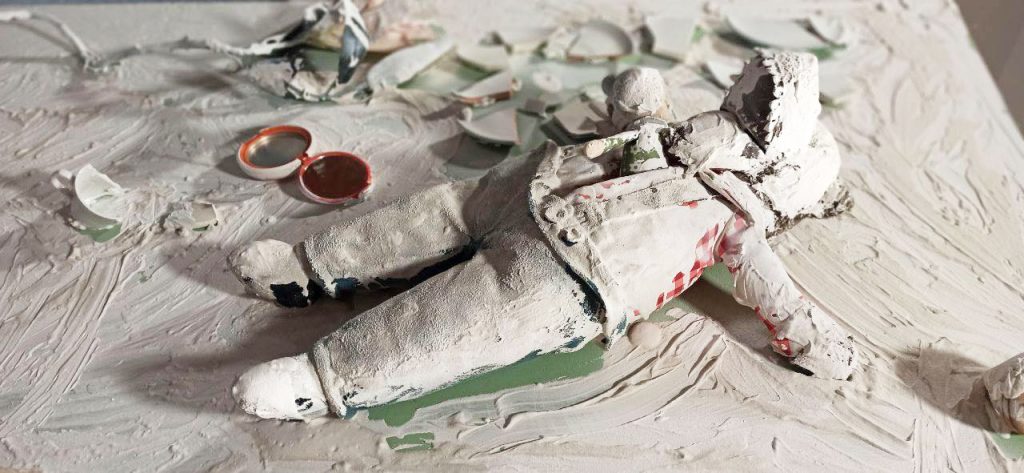 I saw fear as a door, but not just any door, but made of white ceramic, something disturbing and familiar at the same time. A ceramic door is something that can break into a thousand pieces and can hurt us. An object of our daily life that should keep out cold, warm and who we do not want but is extremely dangerous in this form.
In childhood the door is a passage to a different world, from what we know to the unknown to which we are driven by curiosity and at the same time rejected by fear.
I chose the door both because it is an object used daily in every home. From there I went to dig into my fears.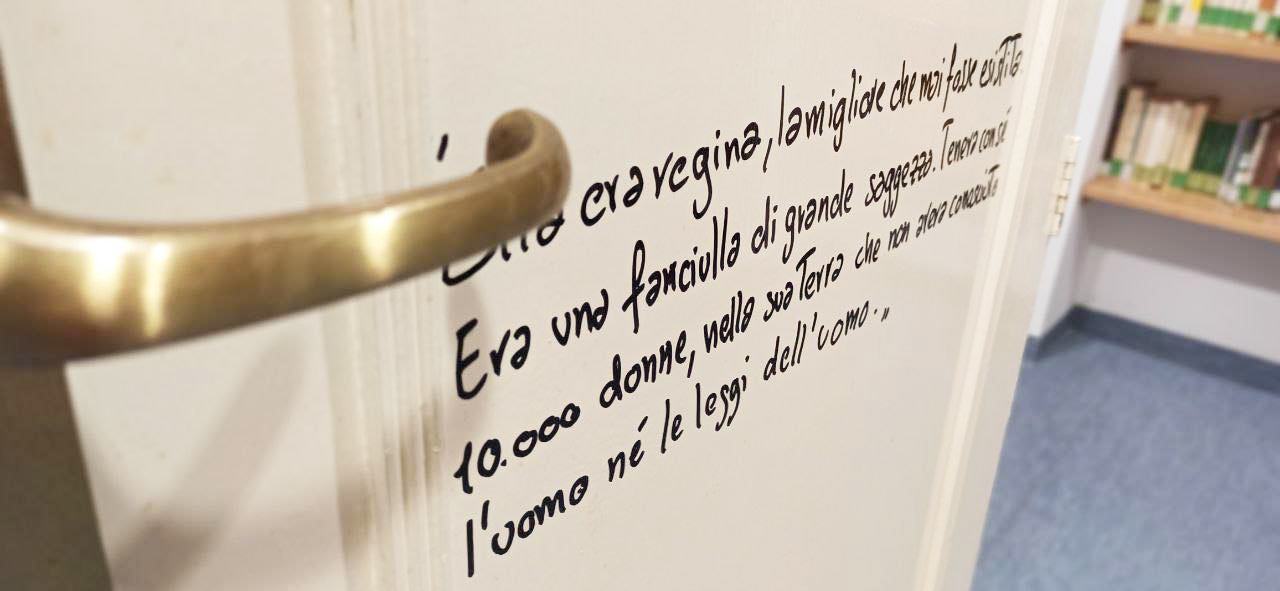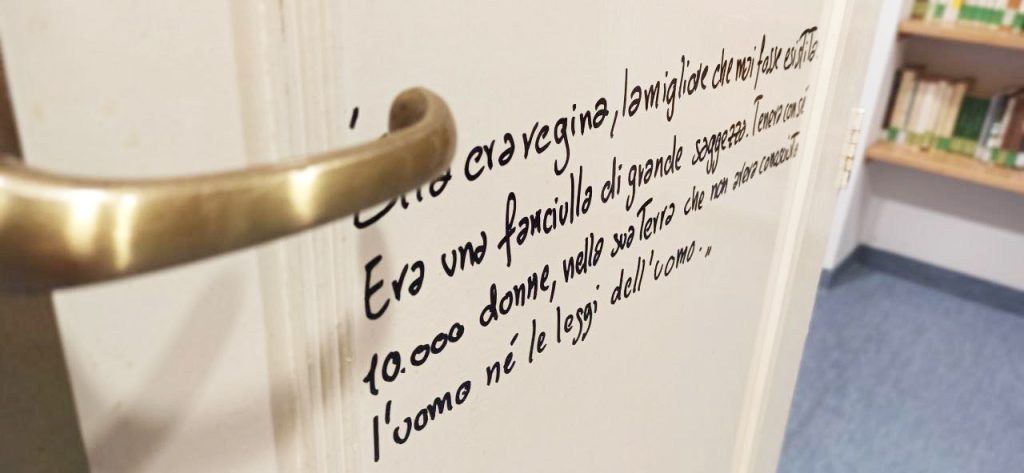 During Covid the feeling of ambivalence of the domestic environment has grown, as well as the awareness of the increase in violence "behind so many doors". The series of episodes in Italy, including that of a woman I knew who suffered violence, yet another brutally murdered, the exacerbation of discrimination against women in Afghanistan and then in Iran has made me grow the desire, indeed the need, to make that fear known.
I wanted to feel the "smell of fear" but at the same time I did not want to repeat the violent images to which, now large and small, seem to have become accustomed.
As a teacher, I reasoned about the need to make this type of violence known by making it imagine, without seeing it. In the multimedia performance associated with the work, we find ourselves in the presence of a woman who is suffering violence in the family and we are beyond that door, which we listen to and do not act a little out of helplessness, a little because we are afraid to act in turn, that something can happen to us.
3. What is the meaning of the title?
The title is inspired by two concepts: Toreau's "Quiet desperation" and "white noise" as background noise.
"We often live in a state of despair to which we seem accustomed and drag ourselves into the condition of pain and violence becomes ordinary, a background noise" (Pamela Mattana)
---
The work in detail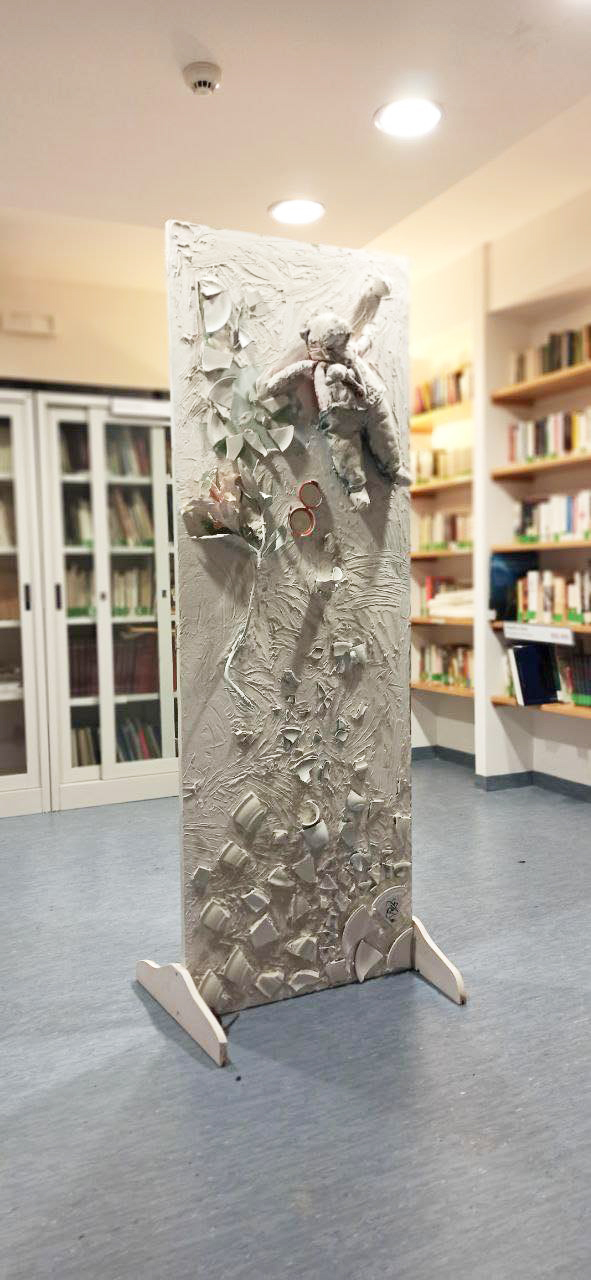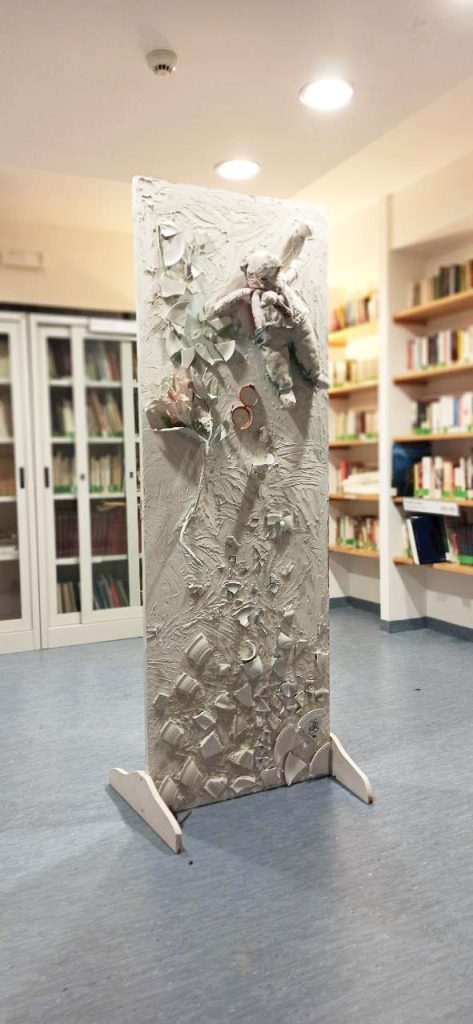 The nucleus of this installation is the audio contribution in which the act of violence is told, a story without words, listened to looking at the first side of the door. But the door has two faces and two messages: the other side is the redemption of women.
I wanted the coexistence of violence on a single object: the first side of the door is without a handle, it is not possible to enter and it is not possible to exit. On the second side the door has a handle and contains handwritten passages of women's literature. A corner of intimacy, where women describe themselves and write the courage to face situations of violence.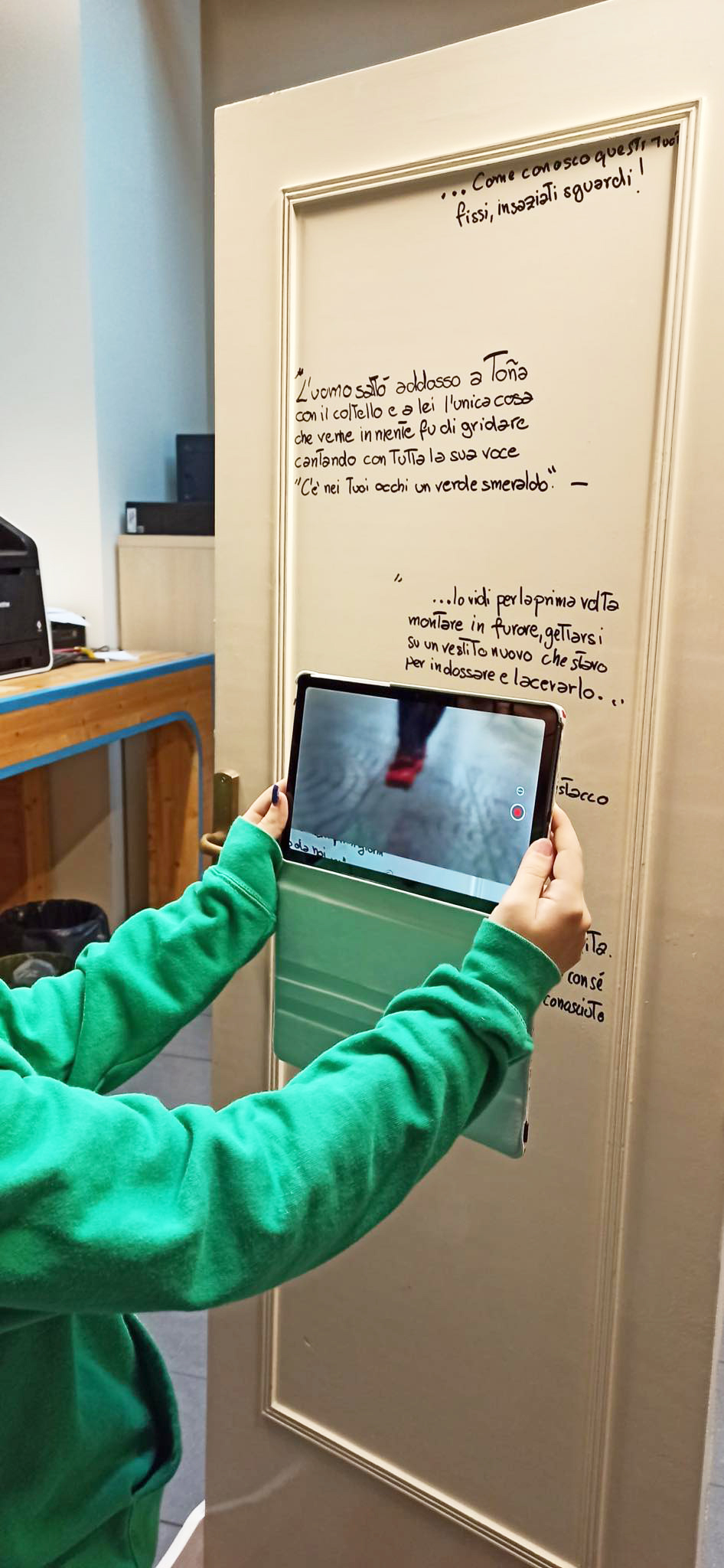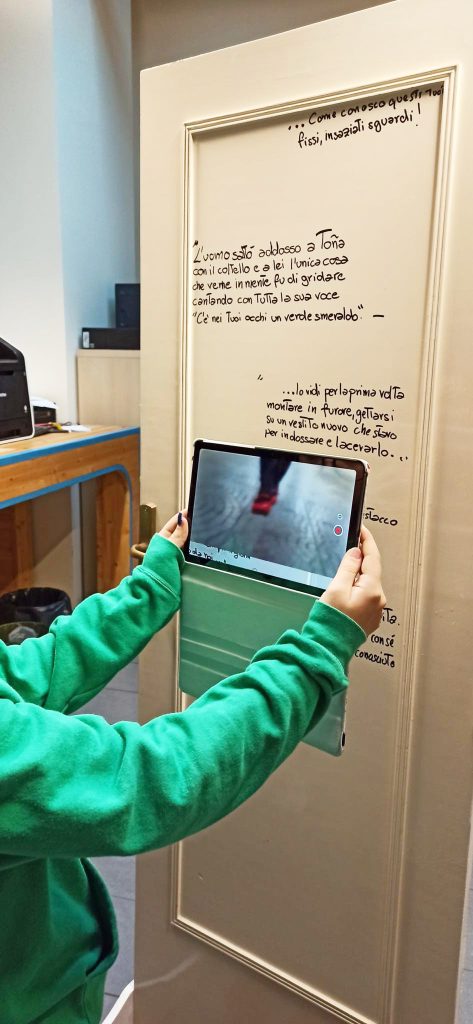 Here augmented reality turns the game of the daisy "loves me, loves me not" upside down. Petals progressively grow on the daisy, each of which represents the rights acquired by women in Italy from 1945 to today.
We are on the other side of the door, where there is the handle, "you can free yourself, you can get out of the condition of oppression because there are rights, because there have been women like you who have fought, because you are not alone and literature reminds you of it and gives you courage".
4. Why was it important for you to talk about this? Can you also refer to some statistics of abuses against women in Italy?
This installation had a long incubation but it was strongly desired because, as a woman and citizen, I feel the duty and urgency to raise awareness as many people as possible on this great problem, which is never talked about enough.
In fact, despite the rights that, at least on paper, have been acquired by women, these rights are also trampled underfoot in democratic countries such as the USA and not only in Afghanistan or Iran. For this reason, Q/White Desperation was exhibited for the first time on November 25, 2022, on the occasion  of the International Day for the Elimination of Violence against Women, and will see its next stop on March 8, 2023  International Women's Day.
Although it is considered by many as a holiday, March 8 is an anniversary in memory of a group of women, who died inside a factory. It is not a celebration of liberation, it is a warning to remind us, as women and as a whole population, what women have suffered and continue to suffer. We must always remember our rights and the fact that they should not be trampled upon, because it takes a breath to tear down those rights and therefore we must be present and know and defend them every day.
5.

How does using immersive technologies such as augmented reality for mindfulness-focused projects help you get the message across?

I confess that at the beginning I was very reluctant and everything was random and daring.

I was in the car and I had just received the request for an installation for  the Maker Faire 2022 fair in Rome and  I shared the news  with Fabio Pitotti (my digital partner), trainer on immersive technologies and Italian referent of Artivive, who proposed me to transfer or rather realize with digital tools all the work I had thought.

At first I became very stiff even angry because I found it absurd to move my gesture and the material component to digital. My work would have lost meaning for me because I use recycled materials and for me to create by manipulating and fundamental as it is to give people the opportunity to "touch" the works.

That day, coming home from school, I ended the conversation and felt in turmoil. I read Fabio's as a provocation, we looked like two aliens. But then on the way home my studies re-emerged, in particular the university courses with Prof. Roncaglia, I thought about hypertext and I realized that if I understood my creations as texts, technology would give me the opportunity to increase them.

In my artistic expressions, very material, three-dimensional, the digital component helps me to create hypermedia works. What is material recalls what is perceptible through the senses while Augmented Reality invokes, in this work, something that is real but that appears intangible, such as women's rights.

The importance of working with others lies precisely in this, in the encounter-clash, in the dialectic that does not make me meet halfway but makes me arrive at something that none of the parties had thought of. Basically, there is the scientific mentality.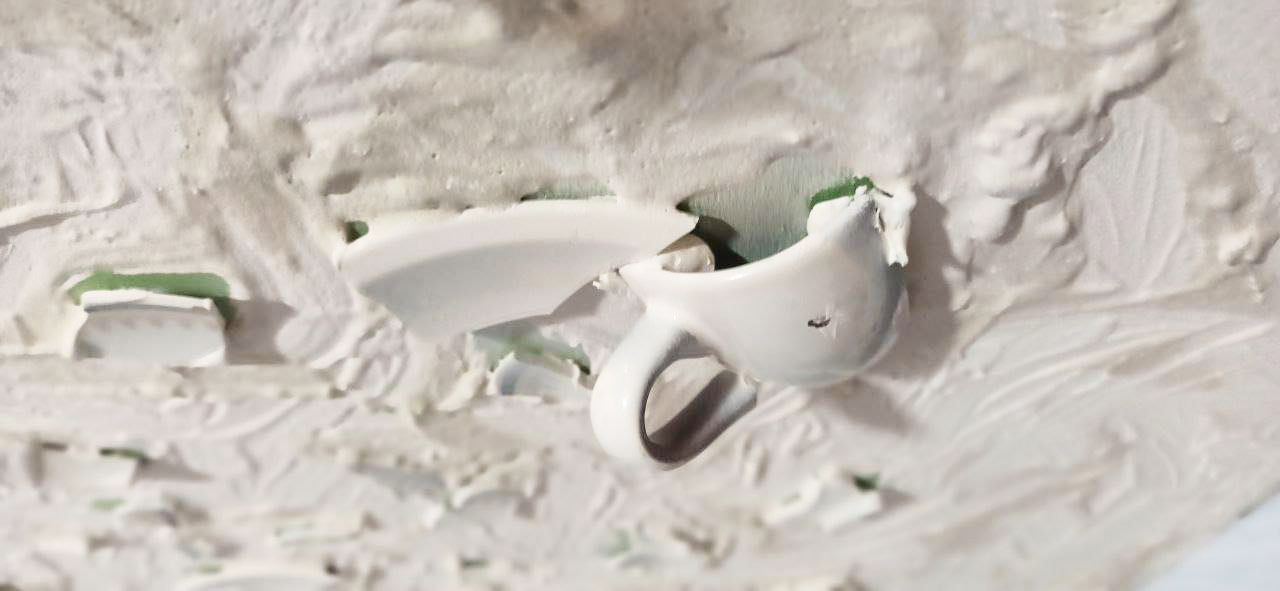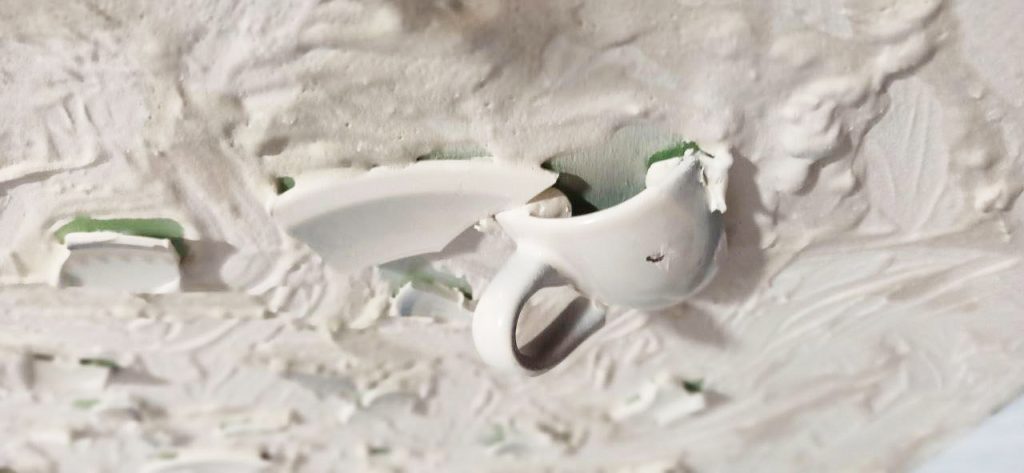 6. Where was this artwork shown and where will it be shown in the future?
This work was set up for the first time inside the Museum / Library of the Municipality of Mazzano Romano for the students of this Municipality of Lazio. Later I was invited to exhibit  at Sonic Arts and Notte dei Maker (December 16, 2022) and on March 8th I will be on display at the University of Roma Tre.
7. How was the reaction of the viewers?
I must admit that I did not expect the results obtained, Fabio was much more optimistic than me. During the performance visitors of all ages remain in absolute silence, when we turn on the lights you can feel the emotion and often, indeed very often, the emotion of many of them. The second phase of the performance, which makes use of Artivive's augmented reality, focuses on this emotion and helps us to better communicate the issue of rights and above all the possibility of finding a way out of oppression and violence.
8. Do you know of organizations working to prevent violence against women?
I have known various associations that work in this field, since I was a girl. Thanks to my mother I came into contact with various associations that carry out work of protection, listening to women victims of violence. At the moment I voluntarily support an association of the territory and I plan to organize an event that involves associations, schools and some Municipalities of Rome.
https://www.casainternazionaledelledonne.org/ 
---
Interested in creating augmented reality art? Sign up for a free account and start creating now.