Building Community Through AR
Augmented Reality is unique because it is an ever-growing technology, and the possibilities are endless when thinking about promoting local businesses.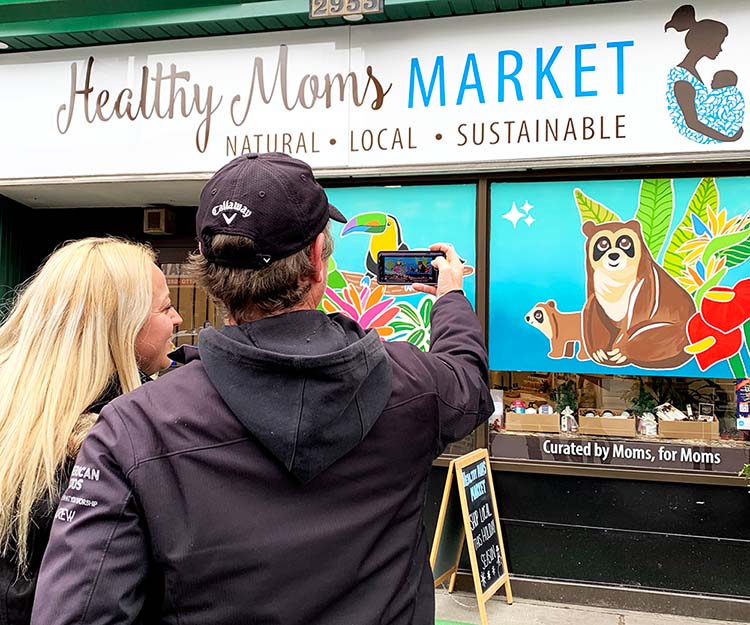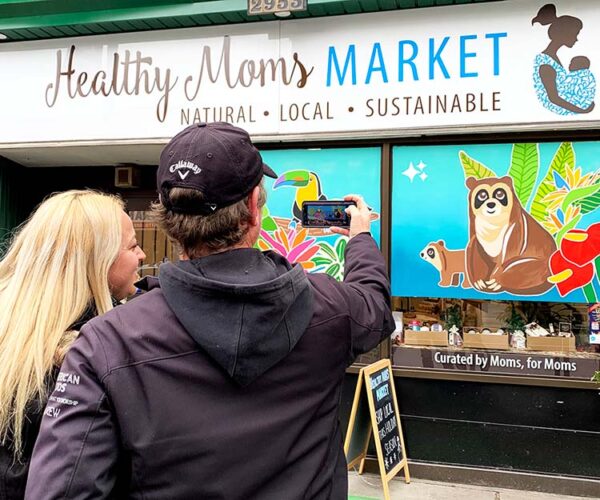 Can you imagine a neighborhood where local businesses flourish using immersive technologies, such as Augmented Reality? Well, this is already happening in Toronto, Canada.
Planned as the original commercial strip for the West Toronto railway community, the so-called 'city's favorite meeting place' has integrated AR, turning it into the first interactive public area of its kind in this metropolis.
And what better way than doing it with immersive installations on the streets, as outdoor spaces are considered safer during these challenging times, we are going through worldwide.
For this purpose, The Junction BIA recently set up the 2nd Annual Window Wonderland free art walk, an exterior gallery with 20 installations brought to life with Artivive.
We had a chat with Carol Jolly, Executive Director of this organization, who shared with us how AR has boosted the economic and cultural vitality of this vibrant site and, most importantly, brought its community together.
---
Organizing public events amid the COVID-19 pandemic has been pretty hard. How have new technologies, like augmented reality, helped you stay close to your community?
New technologies, such as Augmented Reality (AR), have helped us connect with our business members in totally new ways.
AR has provided us with never-before-seen opportunities to tell colorful stories and bring some magic to the Junction during a particularly dark time in people's lives.
In which way has AR helped the Junction bring people together in the so-called 'Toronto's favorite meeting place'?
We are happy to offer a comfortable, family-friendly outdoor public art immersive experience that provides a new way for residents and visitors to get outdoors while following Ontario's health and safety guidelines.
In addition, Window Wonderland is free and easily accessible to those who may face barriers accessing traditional galleries and exhibitions.
In this sense, how do you think immersive experiences can revitalize neighborhoods to thrive local businesses?
We hope to put The Junction on the map as an AR neighborhood, with it being the first of its kind for Toronto.
This will create a draw to the neighborhood, which will increase foot traffic and ultimately positively impact the local businesses on an economic level.
AR is unique because it is an ever-growing technology, and the possibilities are endless when thinking about promoting local businesses.
Share with us the people's reaction when encountering the installations animated with Artivive during the last Window Wonderland outdoor gallery.
The public loved the exhibition! Here is a testimonial from our post-event survey that says it all:
"It was fun and easy to use. I shared pics and videos with my kids' families and encouraged them to visit. I liked that I could record videos of the animations in the app."
There is nothing better than seeing the wonder and excitement on visitors' faces when they see a mural come to life for the first time!
What would you highlight from the 40 local and international artists that participated in the previous edition?
By doubling our window installations from 10 to 20, we supported 40 talented artists and created even more magic in our city. Linking classical with digital art, Artivive allowed artists to create new dimensions with a digital layer, which opened a whole new world of possibilities.
For example, the Junction got a taste of something unexpected and extraordinary when we animated an older mural that has been a community landmark for several years.
Animator Benjamin Mitchley told a story about the Junction's colorful history progression using images of visitors from different periods.
Why do you think it is essential to organize free public exhibitions to experience AR artworks easliy?
The arts improve the quality of life of individuals and are strongly connected to health and well-being.
By providing a free outdoor exhibition, we hope to provide everyone with a chance to explore art pieces while also introducing visitors to an interactive experience that they may not have seen before.
In addition, seeing such a wide range of art may inspire future artists!
What's coming for the Junction in terms of community projects and immersive technologies?
The 3rd Annual Window Wonderland returns to the Toronto Junction on November 25, 2022.
In addition, from May to November 2022, the Junction will be transformed into a patio lovers paradise with 52 unique patios and over 17,000 square feet of additional outdoor dining space and immersive activities.
To further our goal of becoming an art-centric destination, we plan to incorporate AR into these events and programs.
---
Interested in creating augmented reality art? Sign up for a free account and start creating now.