Artist Interview:
Sergio Gomez
"In my experience, once they (the viewers) see a work with AR, they want to see more."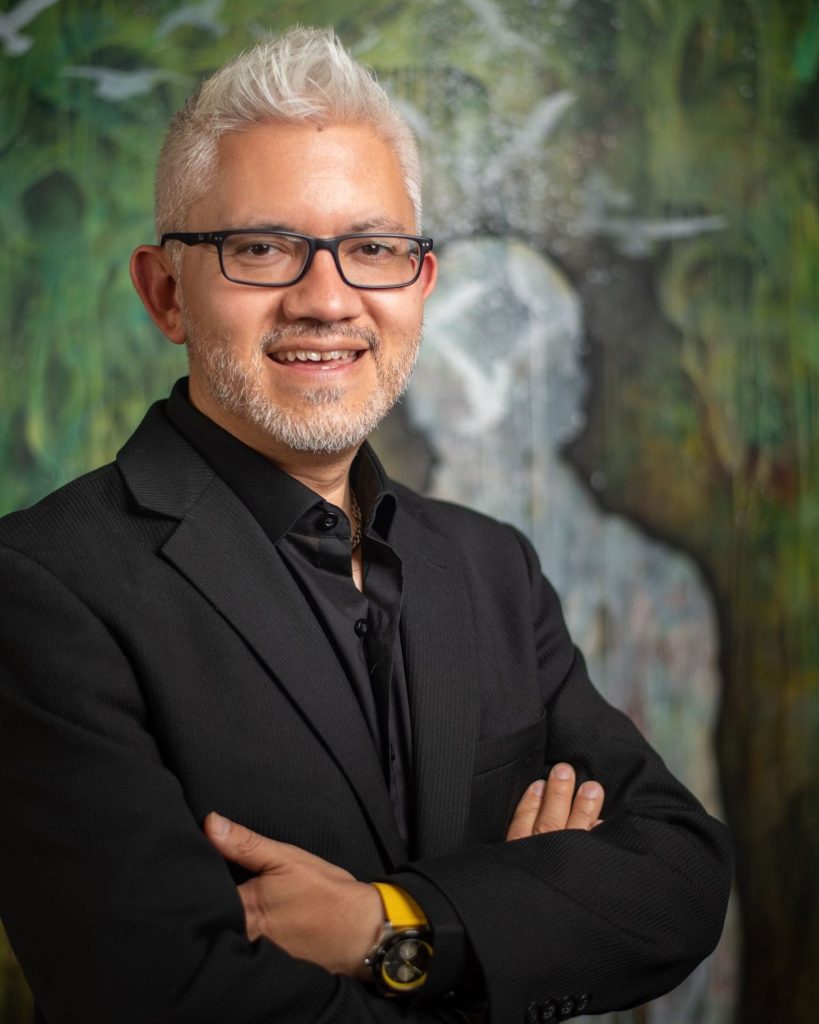 We sat down with our fellow ambassador Sergio Gomez – a Mexican Artist, Curator and Educator based in Chicago. He is also the Director of 33 Contemporary Gallery – a gallery space in Chicago. 
We talked about his early beginnings in Art, how he got introduced to Augmented Reality, and his coaching business. Also about his collaboration with Artivive. 
Read on to hear about why he values education so much, and why he appreciates Augmented Reality when it comes to his NFTs.
When did you get started in Art?
I have always loved making Art since I was a child. However it wasn't until I started college that I really got serious about it. When I graduated school, I also got really interested in the business side of Art. This influenced me to open my gallery when I graduated in 2004.
How did you come across Artivive?
I came across Artivive by first seeing an Artist friend using it for a project. Then one day I saw it on Instagram, and got really interested in trying it. Once I had my first Augmented Reality experience, I was sold on the idea and eventually when NFTs became mainstream, I jumped right into it with AR. The way it worked for me as a traditional Artist was to create the original painting first. Then I could animate the work and upload the animation to Artivive. The last step was to make the animation into an NFT. That way when looking at the painting with the Artivive App, it was like revolving its NFT counterpart. It made total sense for me to use Artivive for that purpose. 
What was your first experience with Augmented Reality Art?
I saw an exhibition many years ago in Chicago that featured two Spanish Artists, who animated pages of their sketchbooks with AR. It really fascinated me!
Why do you value adding Augmented Reality to your Art?
It is an added component that when experienced by the viewer, it blows their mind. They become active in the discovery process. In my experience, once they see a work with AR, they want to see more. 
That is an exciting phenomenon. I also use AR to view the NFT animation of a particular painting/drawing.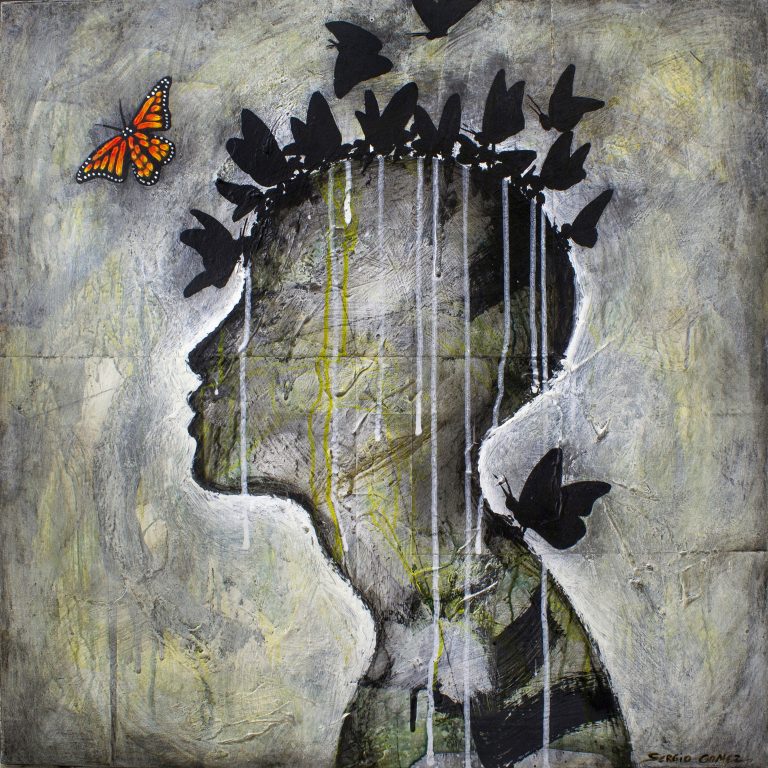 ©Sergio Gomez, Living Series: Hope
You have a coaching business, Art NXT Level Academy, that aims to help Artists progress in their career/business – how did this come about?
Once I opened my gallery and became a curator for a large Art center in Chicago, I started to help a lot of Artists with their concerns. I was then invited to speak about the Art business to local groups of Artists. I saw the need in the Art community to learn how the world was changing, and how the web and social media were becoming a dominant force to be part of. In January 2015, I started The Artist Next Level Podcast, and that opened up new opportunities to help more Artists who were not in Chicago. A year later, my wife and I started the Art NXT Level Academy. It is an online program to help Artists succeed in a changing world. 
Since then, we have grown to a very active international online community. We offer online courses in marketing, sales, wellness, organisation and productivity. We also offer coaching sessions, studio visits online and in-person events. 
Why is educating Artists so valuable to you?
Sharing what I know is one of my personal core values. I believe in the abundance mentality, the more you give, the more you get back in the end. You can never give enough. There is always more to share with the world. I enjoy passing on information. I don't like keeping it to myself. Through my social media, podcast, YouTube videos and such, I give a lot of free information. With my coaching program, I can go deeper and be more hands on in the experience of learning. I find myself learning more when I'm sharing more. So it is a win-win situation.
You are the director of 33 Contemporary Gallery in Chicago, what is a piece of advice you'd give to all Artists starting out?
33 Contemporary Gallery is a physical gallery space founded in 2004. We focus on contemporary figurative and abstraction. I get the opportunity to see and interact with many emerging Artists. My best piece of advice is two-fold. Learn to manage two very important assets in the Art business – time and people. Once you make the best Art you possibly can in the studio, then you need to invest time to manage the Art in the world. Then you need to invest in people's relationships to show the Art and get it out in the world to galleries, collectors and the general public. Build your own Art world with the people that matter to you, and say YES to your art and creative vision. Don't waste your time trying to convince people to like your Art. Your audience is waiting for you. You have to get up and show up so they can find you.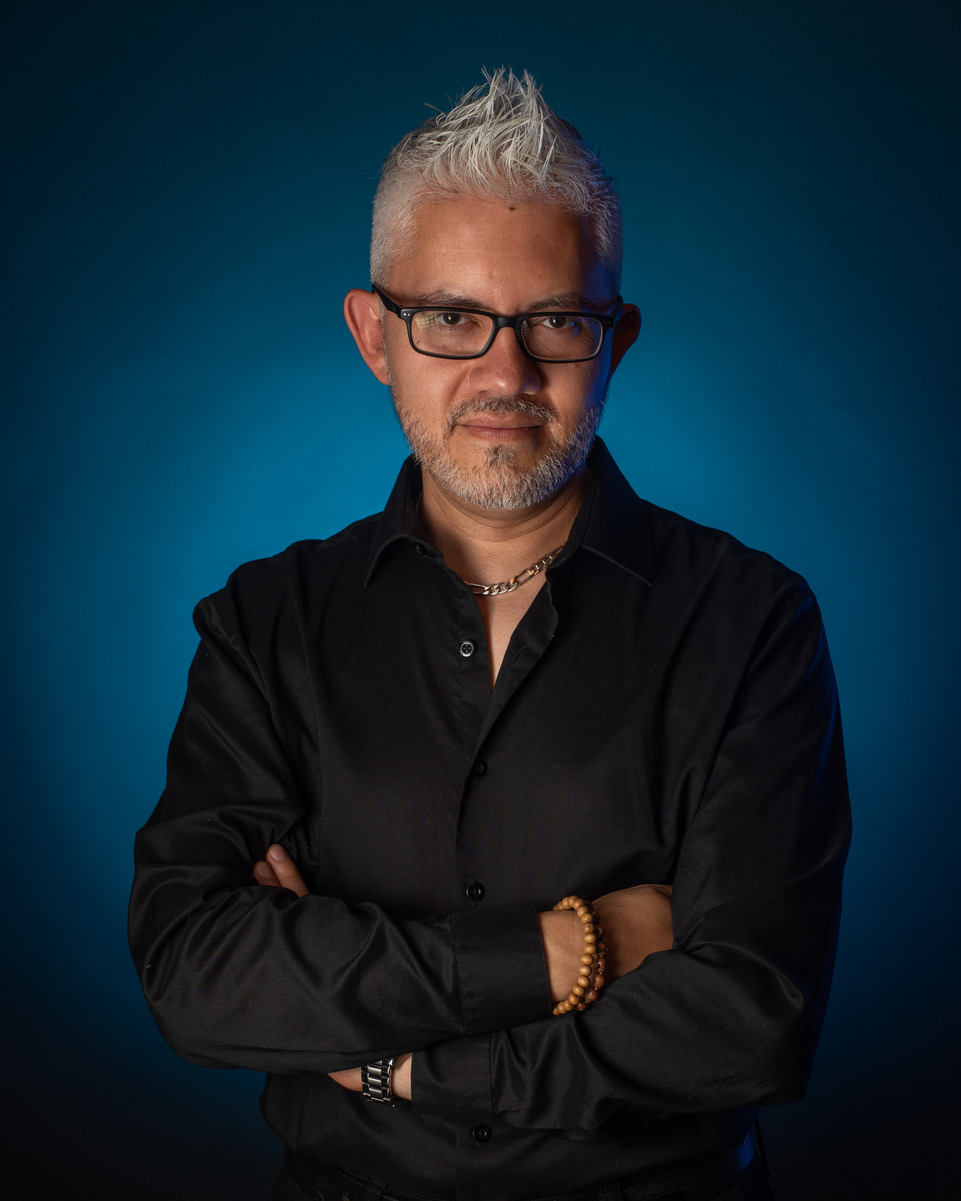 ©Sergio Gomez
All Photos: ©Sergio Gomez
Finale
The  interview  with Sergio reveals why artists  from different and diverse parts of the world turned to this new artistic language – Augmented Reality Art  and NFT – to challenge, mobilise, promote diversity and representation.  
Interested in creating augmented reality art? Sign up for a free account and start creating now.