HOW DOES THIS WHOLE THING WORK?
Our platform, Bridge, was created especially to be used with Artivive. It analyzes the image you upload in order to find its unique pattern – like a fingerprint. When the Artivive app recognizes the image, it starts playing the digital layer connected to it. At the same time, through the camera view, the recognized image is replaced in the real world by the animation/video/digital layer. The technology we are using is called augmented reality.
WHAT IS BRIDGE?
Bridge is our content management system that connects the artwork with the Artivive app.
HOW CAN I REGISTER FOR A BRIDGE ACCOUNT?
To register for an account, click here and fill out the short registration form. Once this is done, you will receive an email to activate your Bridge account and you can get started with creating your first augmented reality artwork!
WHAT DEVICES CAN I USE TO ACCESS MY BRIDGE ACCOUNT?
You can access your Bridge account through a desktop computer, a tablet, or a smartphone. It works with both Android and Apple iOS devices.
HOW HARD IS IT TO CREATE A PROJECT?
It depends on the story you want to tell. We suggest that you start with a test: upload an image and a video that you already have. You can also use your smartphone for this test, just take a photo and record a short video to go with it. This won't take more than five minutes and it will give you a better understanding of the whole process.
HOW DO I CREATE MY FIRST PROJECT?
Tap the "Add Artwork" button on the home screen, or the "Add Artwork" icon in the top right-hand corner. There are two options for you: Basic and 3D/Pro. Let's start with Basic first. To begin, give your project a name and choose the folder you will work on – and then name your folder. Then drag and drop, or upload a JPG or PNG image and an MP4 video to create an augmented reality artwork. By clicking the "Add" button, you will link the image and the video. Wait a few moments for the upload to be complete. Once the project is ready, it will appear in your "Artwork Collection".
WHAT IS THE 3D/PRO OPTION?
The 3D/Pro feature includes the common X and Y axes as well as the additional Z-axis for depth. With the 3D/pro editor you have more freedom and control over your project. You can add more layers, scale, move, and rotate layers to give the illusion of depth. You can add up to 3 video layers with 100MB, as well as up to 3MB of non-video layers (including 3D objects) with Pro subscription or up to 5MB of non-video layers with Pro Plus or Business subscription. The 3D/pro mode is only available for Pro, Pro Plus, and Business subscribers. You can start with a 14-day free trial! 
WHY DO I HAVE TO UPLOAD AN IMAGE AND A VIDEO?
Artivive needs a photo or image of your artwork in order to recognize it and extend it with the video/animation dimension.
WHAT DO THE STARS IN THE PROJECT INFO MEAN?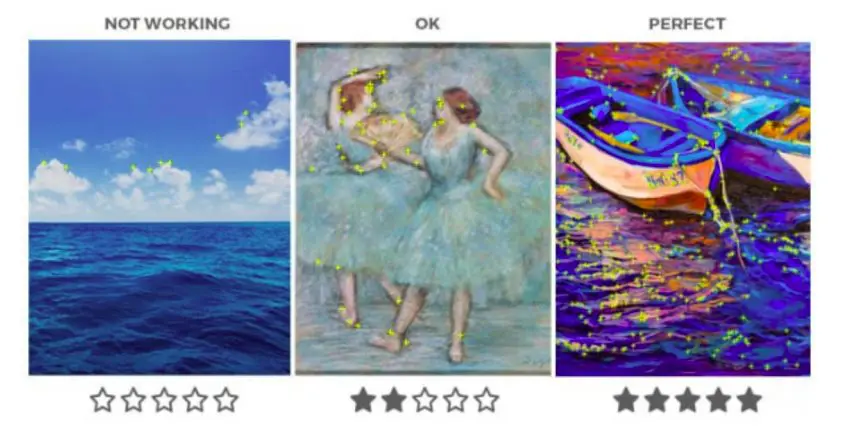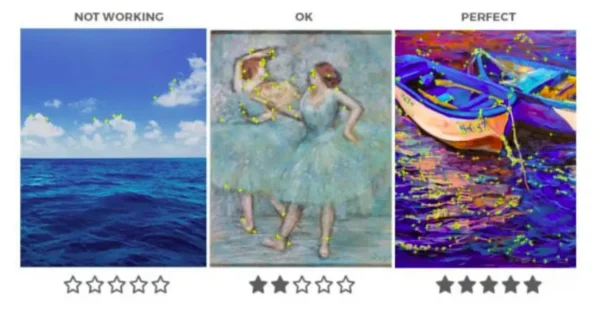 Bridge analyzes the image you uploaded to find its unique pattern – like a fingerprint. The stars (0-5) tell you how suitable the image was for finding a unique pattern. Images with a higher contrast are easier to recognize. Images with very little to no detail, a single color, or that are very blurry, will not be suitable for Artivive. If you experience any difficulties, please contact us so that we can assist you.
CAN I ADD ADDITIONAL INFORMATION TO MY ARTWORK?
Yes, you can add information about your artwork on Bridge. To do so, click the "Artwork Info" button. Fill out your name, the name of your artwork, a brief description of it, and your social media handles. This information is visible to users when they press the "i" button on the Artivive app.
HOW WILL MY AUDIENCE KNOW THAT THEY SHOULD USE ARTIVIVE?
You can download templates with instructions for your audience here.