Artivive Creator Account (ACA) 
Artivive offers one type of account with upgrade and add-on possibilities. This account is a freemium account – any creative can sign up and use it for free up to a certain number of scans (views). 
Once you register, you will be assigned a free Artivive Creator Account, also known as Basic. With the Basic account you have up to 50 views a month and access to the basic editor only. Once you have created your account you can then upgrade to one of our higher subscription tiers for more creative fun and benefits!
You can start with a 14-day free trial for the Pro subscription allowing you to enter the 3D/pro mode to have more control over your projects! For more information about 3D/pro click here.
You are able to upgrade or downgrade your account according to your needs and wishes at any time.
Here is the overview of the available plans: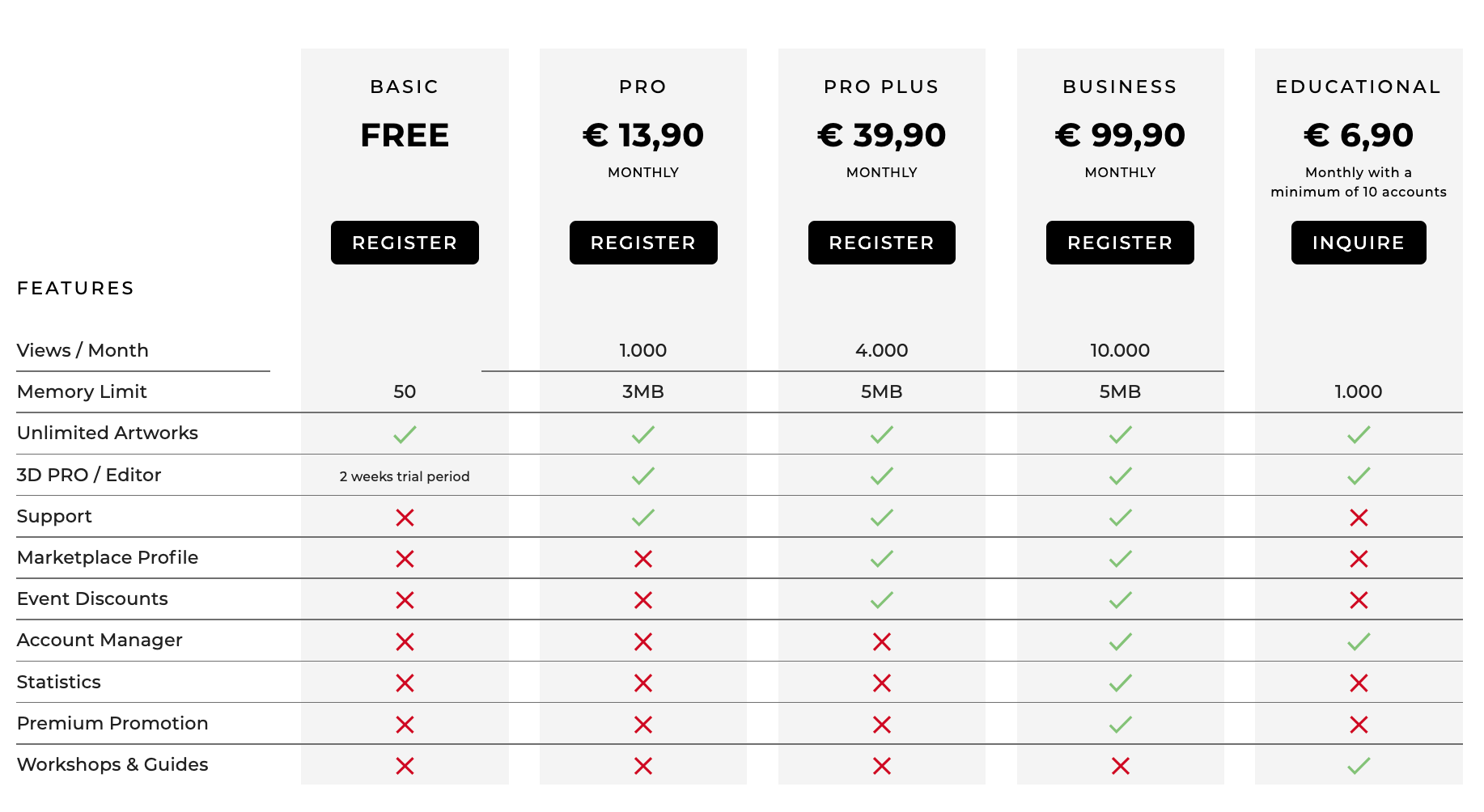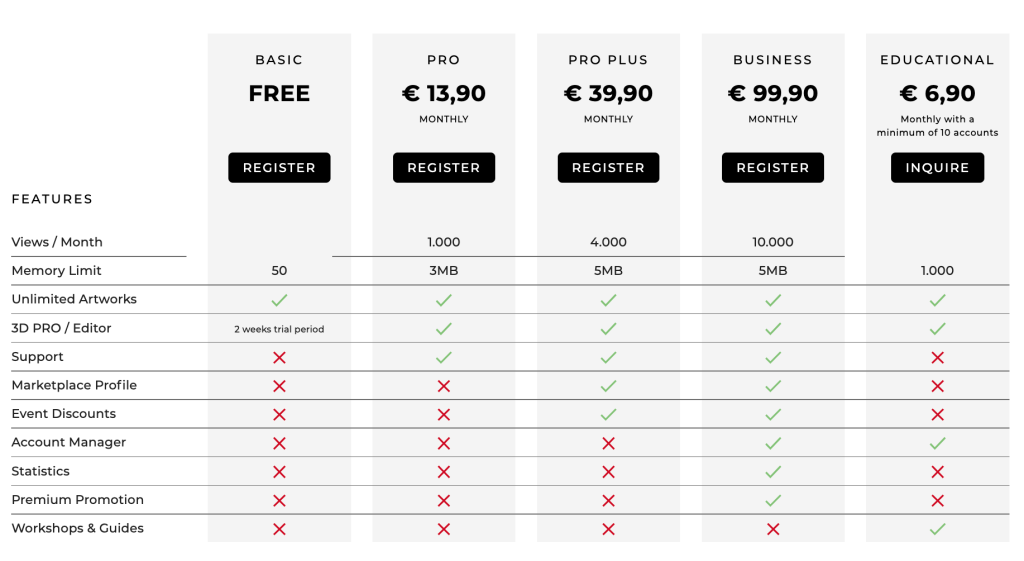 All our plans/subscriptions are monthly priced and can be changed or canceled at any time. To encourage long-term commitment we offer a 17% discount for yearly plans, meaning you are able to purchase a yearly plan and receive two months for free. The monthly or yearly subscription will renew automatically.
VIEW LIMITS
Your Bridge account allows you to upload an unlimited number of artworks. However, there is a monthly view limit that applies to the total number of times all artworks in your account can be viewed. The number of views included in your subscription/plan applies to your entire account and not to each individual artwork. For instance, if you have a Pro plan with a monthly limit of 1000 views, you can view all of your artworks a total of 1000 times per month.
• You can see how many views you used in the current month on the bar in your Bridge dashboard.

• Once the monthly view limit has been reached, you will receive a pop-up message in your Bridge account (see below). When this happens you have several options:
Holders of the basic plan are able to upgrade their subscription, this way the number of your monthly views will increase and the artworks in your account will stay active. If you do not upgrade, the artworks in your account will be temporarily deactivated (you can edit them, but you will not be able to scan them with Artivive App). The artworks will be activated automatically when the views count resets (new month).
Holders of pro, pro plus, or business account, can choose between upgrading their plan, adding additional views (more information below), or setting a cost control, where you will be charged per view after using all your available views (more information below).


• Emails will be sent when: 50%, 80%, and 100% of the limit is reached, the add-on was added, and/or the artwork was set inactive to not generate any more costs.
IF YOU REQUIRE MORE VIEWS CHECK HOW TO ADD ADDITIONAL VIEWS!
Special upgrades
Program upgrades
All users have the opportunity to apply for our many programs, such as the Ambassador Program and the Mentoring Program. The application processes occurs twice a year. Through these programs we offer a special upgrade that follows the agreed upon guidelines of each program. For more information regarding our programs please click here.
Educational / Enterprise upgrade
The accounts that don't fit as business accounts or have other needs – educational institutions, NGOs, museums, etc. They will be administered and invoiced separately based on the offers Artivive made. Here we will not have public price lists. Based on regions and needs we will have different offerings.
FAQs:
Who can register and use this account?
Every creative (artist, musician, designer, …) who wants to use Artivive for their artworks. At the registration, the creatives will be asked to share with us an online portfolio (website, Instagram, Behance, …).
What will happen with the free accounts/users that we have now?
All free accounts will be automatically moved on Artivive Creator Account (ACA) Basic.
What happens with the subscriptions we have?
The users can keep the

account/subscription

they have. They can create as usual, and if they decide to access our new features or add more artworks, they can easily switch to our new model.
What happens with the one-time payment accounts?
The user will keep the one-time artworks in their account where they can edit and change these but not delete them. These accounts will not be affected by the view count. If they want to get additional project slots, they will be able to create a new ACA account.
What happens with the business/museum accounts we have?
Museum accounts will be moved on ACA Enterprise Upgrade. Business accounts that have no active artworks will be moved on ACA Basic. Business accounts that have active artworks will be moved to ACA Business – free of charge until the time runs out. Afterward, they will be downgraded or prolonged.
What happens if I reach the limit of my views?
For Basic ACA – the artwork will be deactivated and only in the app, it will work for another 50 views. When these are over, there will be a message in the app that the limit was reached. After that, the account will be inactive. For Paid ACA – the artwork will be deactivated but will work in the app up to 200 views above the limit set. After that, there will be a message and the account will be inactive.
How can a user have an overview of the scans left?
There will be a bar in the dashboard on Bridge.
How will the statistics work?
The views per artwork will reset each month. Only ACA Business will be able to see the total number of views and detailed statistics.
What should happen if there are any payment problems?
The account will be set on Basic until it's solved.
How do we handle an up/downgrade in the middle of the pay cycle?
For upgrades, you will automatically be billed on that day for the new tier and will receive all features and new number of views. You will only have to pay the difference. The next billing cycle will be a month after the upgrade. Downgrades will be for the next billing cycle.
Would it be possible to put some artworks on pause so that they don't get any scans or views?
Not at the moment.
Would it be possible to see your invoices?
Yes, invoices will be available in the account's info.
Cancel subscription
You can cancel your subscription at any time by visiting your Bridge profile dashboard and clicking on "manage subscription". The change will occur in the next billing period. If you would only like to deactivate your subscription for a short period, we offer you an option to pause your subscription.
Pause subscription
You are able to pause your subscription for up to 3 months. You can do so by proceeding to unsubscribe and selecting the pause subscription option when offered. The subscription will automatically continue after the time period you paused it for ends.
Delete Account
You can delete your account by visiting your profile and selecting the "delete account" option from the list. Once you delete your account, all your artworks will be deleted and you will not have access to the account anymore.
Do you have any more questions or want to share something with us? Schedule a call with our team here!